Attractions
Blue Mountain Lake
We have the finest lake front sand beach in the Adirondacks, especially safe for children. The Blue Mountain Lake Boat Livery (518-352-7351) nearby rents a variety of watercraft including canoes and motor boats. Docking of your boat is included in the weekly rental. You may bring your own motorboat, kayak, sailboat, or canoe. Trailer boat launching is available nearby for a slight fee.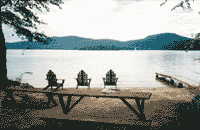 Golf
There is a nine-hole golf course in Indian Lake (15- minutes from BML) and an 18- hole golf course about 30 - 45 minutes.
Hiking
The area has an abundant amount of scenic mountain trails abound with spectacular views. The breathtaking view from the top of Blue Mountain overlooking the three lakes (Blue Mt. Lake, Eagle Lake, Utowana Lake) of the Eckford Chain is one to add to your list of activities. Castle Rock gives yet another bird's eye view to the lakes.
Fishing
Blue Mountain Lake connects to Eagle and Utowana Lakes. These three pristine lakes offer a variety of fish including: lake trout, brook trout, landlocked salmon, whitefish, large and smallmouth bass, and bullhead. Nearby lakes offer norlunges, northern pike, perch and sunfish. Nearby brooks offer brown and brook trout.
Email for more information: